5 Days in Whistler - Everything you Need to Know
Whistler is the most famous hub of winter sports in Canada or I should say North America because the sports area here is the biggest among the winter sports destinations the whole continent has to offer. The heavenly feel it gives by the awe-inspiring landscape is also a major reason why Whistler is loved by so many backpackers. In the lap of mountains which are enclosed by the forest and rivers, Whistler is like a masterpiece drawn by some famous fantasy artist. Since Whistler catches the attention of a myriad of people every year, the town has developed a lot in terms of its hospitality and other tourist attractions. So if you haven't visited Whistler yet, Farenexus will show you what you are missing out on by enlightening some of the best servings of this beautiful destination:-
1. Whistler Blackcomb
Whistler Blackcomb boasts being the biggest skiing resort in North America and why it shouldn't? Spread across over 3300 hectares of land, thanks to the two peaks- Whistler and Blackcomb, the resort has a lot of room to stroll through with the ski-boots on. With an increasing number of people flocking around, the access to eateries are no hustle and thus you can easily spend your whole day within this huge resort. These days even some hotels provide access to the mountains, giving you a place for short retirement and warm-up. Whistler Blackcomb is gifted with some glaciers that make it possible to ski even in summer, making it the resort with longest ski season in Canada. So are you up for it?
2. Hiking & Climbing
Hiking and climbing are among the famous activities tourists come here for. Being cherished with an immense amount of nature, hikes to visit it from deep inside and close enough is a must. The number of trails Whistler has around will take quite a few to days to be adored completely. And if you are thinking that visiting just one of the hikes will give you all the experience other hikes has to offer, then think again. This place offers a range of trails that meet the needs of a variety of travel-goers. From flat as football ground (almost) to sloppy as slope kind of trails, there is a lot to visit. Thus it's best to allocate a big chunk of time to Whistler. Or visiting it again (and again) is also not a bad idea.
3. Lost Lake
Located in the trails of Whistler, Lost Lake is exactly opposite of its name as the lake is visited by a lot of people out there. Be it winter or summer, Lost Lake never disappoints with what it has to offer. The prevailing greenery covering the mountains and plains in summer is a sight to be framed. Thus it lures every nature lover towards it through the medium of biking or hiking. Birdwatching is also an activity that is famous here around summer. In winter, as the snow enwraps the area, the Lost Lake becomes hard-to-miss skiing and snowshoeing spot. Winter is less crowdy as compared to summer, thus giving you more privacy and silence to absorb the awesomeness.
4. Whistler Museum
Don't do the mistake of being prejudiced about Whistler Museum as just like a box filled with exhibits. Yeah, it showcases numerous items from the history of Whistler within the walls, but the Whistler Museum also spreads its service outside that. How? By providing guided tours of the historic points and the trails of nature around and within Whistler. Organizing educational sessions for the visitors is also a major contributor in making it stand out from the rest. If you are tempted to ask whether kids will like it or not, then don't worry as Whistler Museum has taken care of it by having a craft program for kids. Have you found any reason not to go here?
5. Whistler Blackcomb's Fire & Ice Show
If you are hopping around Whistler during the wintertime (December to March), set yourself up for Whistler Blackcomb's Fire & Ice Show. It is held every Sunday from 7 pm onwards (8 pm during the later part of Winter). The show consists of stunts by some of the best skiers piercing the rings of fire. The show is quite delightful and a great way to spend the Sunday eve with the warmth of the fire. The dazzling stunts are escorted with the beats of DJ and fireworks. And what's the best part? It's free!
Some indoor activities that you shouldn't miss out
1. Spa- Whistler offers a wide range of spas to feel the relaxing sensation around the whole body. Most hotels have their spa service or you can also choose from various other independent outlets.
2. Escape room- It's an interesting game to participate in. All you have to do is escape from a maze before the time runs out- which is 45 minutes. Per person, the cost is 30 CAD.
3. Throw an axe- This is another game in the list but this one tests your focus and aim. It is similar to dart throwing except you have an axe here to throw at a wooden plank. The popularity of this game has turned it into a tournament.
Some outdoor activities that you shouldn't miss out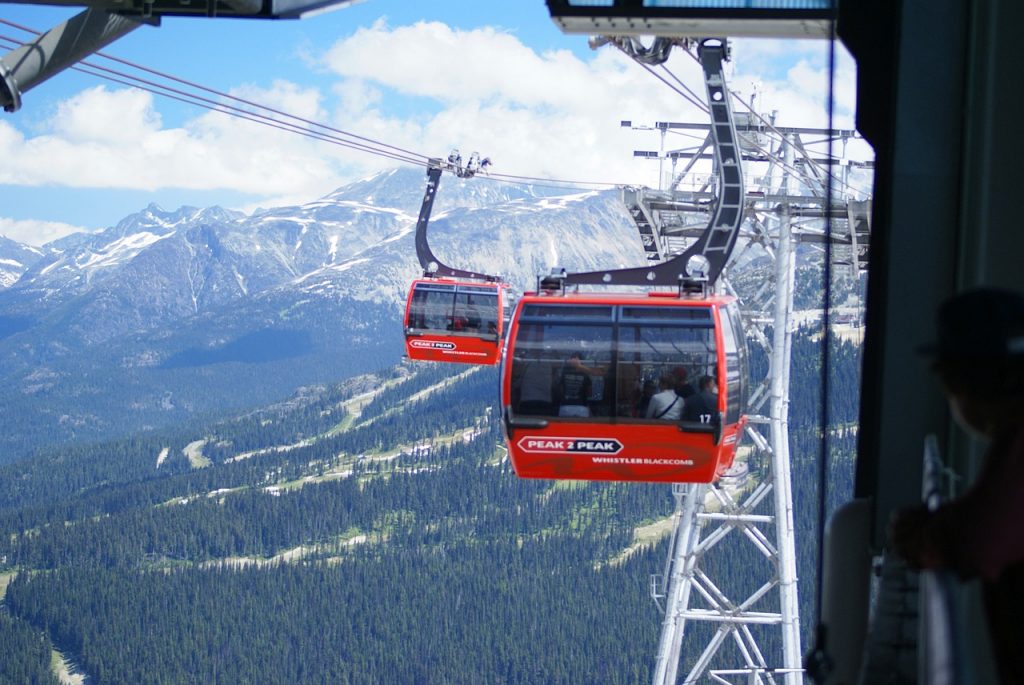 1. Go from one peak to another- The peaks of two famous mountains- Whistler and Blackcomb is just a gondola ride away. This ride offers the stunning top view of the landscape, so ignore it at your peril. For adults and children, the cost is 55 CAD and 28 CAD respectively.
2. Ice fishing- during winter find a frozen lake and set the trap. And if that's hard to organize then allow a tour guide to do that for you. They offer a wholesome package including transportation. This is a classic one to have in your diaries.
3. Dog sledging- Dog sledging is a wonderful way to take a glance of the arena. Sit back and dogs will do the hard work for you. A single ride lasting around 3 hours can costs you 219 CAD. You can also consider the option of sleigh riding.
Nearby places to visit
1. Squamish
Just an hour ride from Whistler lies Squamish- a town to bring out the wild-enthusiast inside you. Squamish is a delight to watch and pleasure to experience because of the wild sporty activities in-between nature's 360-degree gem view. Best activities to try out here, but not limited to, include learning to fly an aeroplane, rock-climbing and kiteboarding.
2. Garibaldi Provincial Park
Garibaldi provincial park is the recreational hub of British Columbia. Approximately 27 KM away from Whistler, it is a scenic escape that's famous for experiencing nature closely. This site provides its visitors with plenty of options for hiking and camping. Besides that, mountaineering, fishing, bicycling, etc are also the hot picks among the tourists here.
Distance to Whistler from:-
1. Vancouver- 121 KM
2. Calgary- 916 KM
3. Saskatoon- 1505 KM
4. Winnepeg- 2239 KM
5. Toronto- 4504 KM
6. Montreal- 4679 KM
Whistler has a lot in its treasury, but the question is have you decided to spread your wings or are you again going to disappoint yourself by finding an excuse? Similarly, Farenexus has cheap flight tickets in its metasearch engine, but the question is are you ready? Because life won't go on forever.
Compare Prices and Book Cheap Flight Tickets