All New NexusWind - NDC Capable Corporate Booking Engine
In a nutshell, a Corporate Booking Engine is a backbone for all corporate travel aka the key element. The efficiency of such solutions not only can add to the business growth but also can significantly ease the burden to confirm new bookings. Just like corporate travels, a good corporate booking tool is an essential element for any successful business, however, finding a good solution that is equipped with all the necessary features necessary for your business could be a difficult task. The major challenge that companies face is to adapt with ta new interface while adopting a new tool as their travel managers are so used to work on the traditional platform and to adjust with a change could be a real challenge for them while keeping the optimum productivity.
Any corporate solution should look forward to providing an immediate advantage to the business, both in terms of operating the interface and the providing more shopping option to choose the best itineraries from that are best suitable for the business needs. The reason is simple – if the solution adopted requires some intensive training for the travel managers, then it is just adding to the costs and if it has limited resources to offer itineraries then as a business you may be missing the opportunity to get even better deals. There are certain other aspects like if it is capable of storing the profile information, processing the various markups, number of GDS it can interact with and how intuitive is it?
Introducing NexusWind!
There are many solutions out there in the market, however, NexusWind seems to have a slight edge overall considering the current market requirements.  It's corporate booking solution with a centralized admin and agency dashboard to manage your agents, branches and sub-agencies, can be customized as per the business needs and it offers advanced shopping results from Direct Airlines (NDC) and GDS (Sabre, Amadeus & Travelport).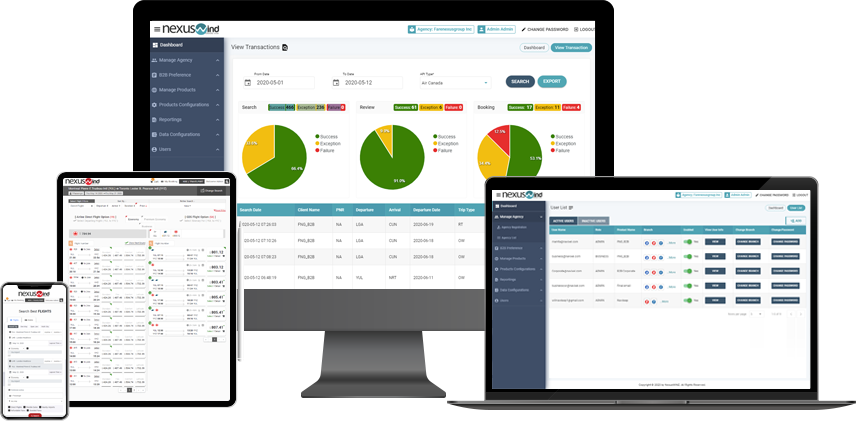 Why NexusWind is better than the traditional Booking Engines?
1. NDC Capable:
New Distribution Capabilities is the need of the hour. IATA has carried a thorough study to understand the limitations and common challenges faced by the TMCs and travel agencies with the current airline tickets retail system. It was apparent that something was amiss, and altogether it demands a new system to connect travel agents to the whole airline product catalogue – so IATA comes up with a perfect solution to address this problem, an XML based data transmission standard that Airlines can adopt to bring its products in the market, a fast and a transparent system to access air ticket inventory and ancillary services directly from the airlines.
Farenexus Group has partnered with ATPCO and NexusWind (our corporate booking engine) is already in production allowing agencies to shop directly from British Airways and United Airlines for now and soon there are more airlines will be activated to access their product catalogue through NDC exchange through NexusWind. It's a revolutionary landmark for the TMCs and travel agencies that allow them to shop from the direct airlines. With NexusWind, you would be able to shop from partner Airlines through NDC exchange as well from the GDS systems (Sabre, Amadeus & Travelport), isn't it great?
Customer Spotlight: How FareNexus Group helps to accelerate airline retailing through NDC and exploring new concepts
NDC: New sales channels to boost airline recovery | Traveldailymedia
2. Integration with NexusCMT (An Airline Contract Management tool)
The second direct advantage is its integration to the NexusCMT – a powerful solution that helps you to manage markups & contracts for various booking on one simple dashboard. Some of the key features for NexusCMT are listed below:
Easy and quick Contract Management Tool for instant contract creation.
Multiple Price Quote in a PNR can easily be processed.
Tactical and Regular contracts can be processed together to maximize profits.
Multiple POS (point of sale) and agent level commission support.
GDS (Travelport, Amadeus, Sabre) and Direct airlines (NDC) are connected and can be processed together.
Advanced dashboard for reporting and alert notification.
CMT Library to maintain all the airline contracts for agents' reference.
CMTQ to easily integrate with TMCs to process the PNRs from queues.
Advanced data configuration to manage multiple POS and TMCs branches.
3. Integration with NexusProfile (A Corporate Profile and Policy Manager)
The third advantage for Nexuswind is to have access to another powerful tool – NexusProfile. It's a secure, reliable and robust cloud-based web application that allows you to save details of corporate profiles and policies ready to be used for bookings in one click. You can dynamically save the information and access it as and when required that saves a lot of time and hassle.
To sum it up, we are talking here a centralized solution, that is a combination of three powerful tools to serve your business. The fact that it is very fast, secure and cost-effective can actually help many travel agencies to cut down on expenses and start operating with more choice and power. We would love to hear your thoughts – Team FarenexusGroup!